The easy to use, fully functional
Gantt chart for GitLab and GitHub
Provide your teams with the right tool to master time and deadlines. Giving back credit to your project status and issues due dates has never been easier!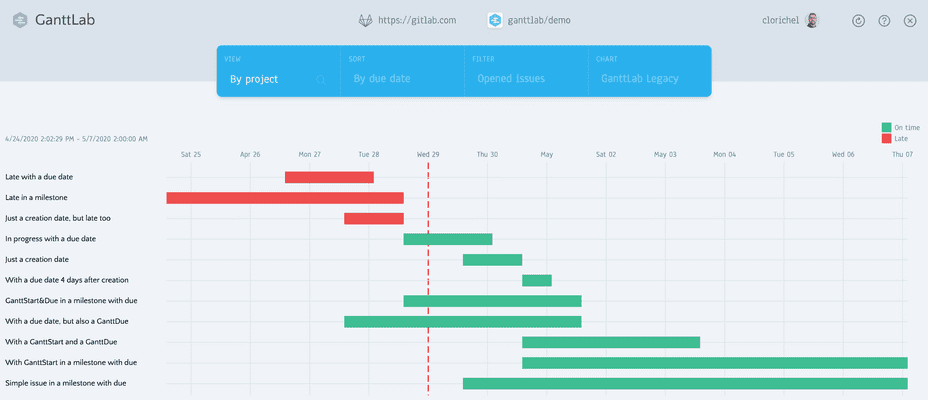 How it works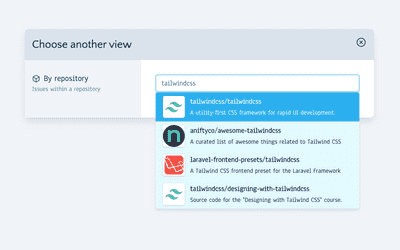 Your issues rule it all
Everything comes from your GitLab or GitHub issues. Specify a GanttStart and a GanttDue, GanttLab will give you the higher overview.
Without any configuration, GanttLab comes with a Gantt chart for your issues out of the box. Your team instantly gets better insights on deadlines and provide more accurate ETAs for your projects.
The type of tools you love
User concern is one of the highest priority in building GanttLab. We do thoroughly consider feedback and ensure iterating on each features till we get the most simple solution and the greatest intuitive user experience.
A tool that just works
Nothing to install or configure
Minimalistic Design
No documentation needed
Always improving
Crystal clear Gantt chart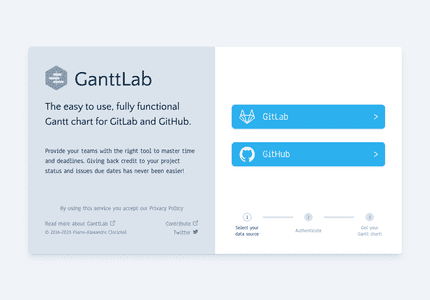 Quick and easy
GanttLab is already running for you, your issues will get on a Gantt chart within seconds.
Safe to run
GanttLab does not store any data, everything runs in your browser, traffic is from your local network.
Blazing fast
You will never wait for long calculation or rendering times, the Gantt chart is generated instantly.
Install on your server
Available on-premise, GanttLab will let you build the Gantt chart you ever wanted for your team.
Get the news
Sign up to receive the latest, hot off the press GanttLab news by email.
GanttLab: The easy to use, fully functional Gantt chart for GitLab and GitHub.
© 2016-2021 Pierre-Alexandre Clorichel. 
All rights reserved